On April 11, 2009, Saturday, I was with some B/S from one of the Church in ShengZhen to the Ocean for Baptize. There were 130 B/S going to be baptized, and about 200 people came for viewing. I knew this would only happen in China, and would like to experience it and wrote it down for the overseas B/S.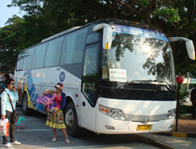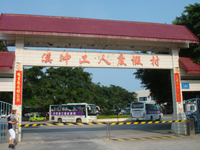 We were gathering at 9 o'clock in the morning, and went with 3 buses and several cars. It took us about 1 hour to one of the Holiday Villege near the sea side. Before the ceremony, we had some activities on the building inside the Holiday Villege.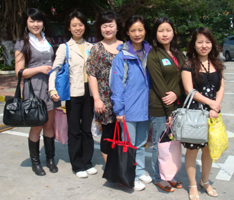 Thanks to our God, the weather was great! However, it was still a bit too cold or me. Since I had sore throat, and tried to keep away from sick, I dressed warmly myself. These 5 sisters who were going to be baptized were all belong to our music ministry's "fruits"! They are all working in our music director, Zhao Xingying sister's music center. We brought what we needed: food and clothing for change. You can see that we all dressed in different seasons, four seasons! And since they are piano teachers, we had to stand in a line as ¡°do rei mi fa so...1,2,3,4,5...¡±for pictures.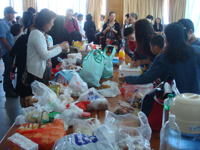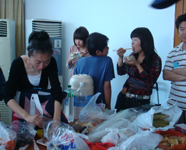 We had to make sure that each person had their name and number for baptize and certisficate. We put all the food together on the table.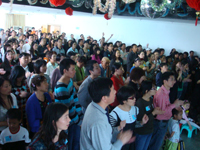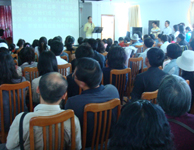 Then we started worshiping our God. We thank Jesus died for us, and save us from the darkness, and give us the hope of eternal life. We thank God for choosing us to be His children! Then brother Cai gave us a short message about why we need to be baptized. Then we started to have lunch. I was kind of curious to see how it would go.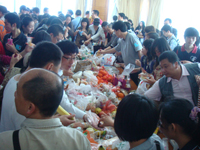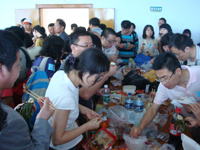 We put the tables together, and put all the food on two big tables. All the crowds stood around the food, ate until they had enough without moving at all! There was so much food, felt like we were in a grocery store!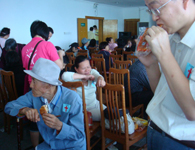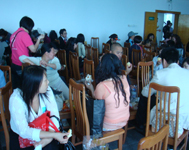 Some were in the "front", some were in the "back", everyone seems had their best position.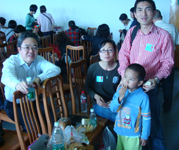 Someone even had their "special food". I regreted to have contributed my "special food" too early, and had lost the track of it. Some lucky ones must have it in their stomach. Haha ...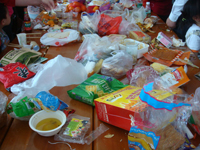 I wondered if brother Huang ate well since he was going to baptize so many people that day. We collected lots of letf overs among these food afterwards. And then we all rushed to the seaside. I was very anxious to see what was going to happen later on.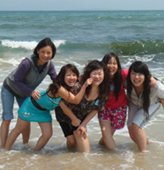 Sisters had changed their clothes and were ready for the baptism. They were so excited too.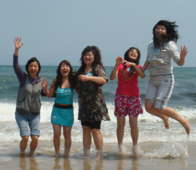 Look how happy they were, and how high they could jump!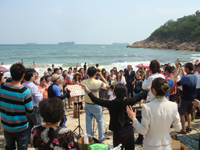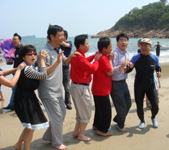 Once again we gathered and worshipped our God! "This is the day, this is the day that the God has made, and we should be joyful in it..." Yes, we were singing with the angels in heaven! There are so many souls be saved, how could we not shouting, not praising! Then brother Huang led all of us dancing and singing in a long line.
It seems no matter what we did, we could not express the feeling inside of us.
Look how many people were going to be baptized! Some of them are husbands and wifes, some of them are parents and children, some came with the whole families, and some are the managers of the companies with their employees. They are all blessed! Not only old people and housewifes will follow Jesus now, anyone who are burdent and thirst will follow Him! And whoever come to Him, will be comforted, helped, fed and have the hope of eternal life!
Now is the time! They walked into the sea, walked towards the cold, bravely faced the wave. They showed their mind: get baptized, follow Jesus with faith! Brother Huang baptized them one by one in hte name of Father, Son and Holly Spirit.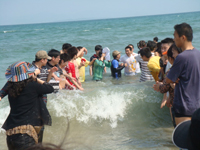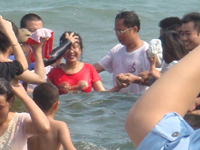 When one group finished, the next group will follow up! This sister's number is 124, so she had to wait patiently.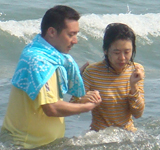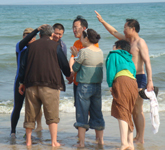 The water was really cold! Many B/S served in the water, which was not an easy job! Brother Huand had been in the water for about three hours! Some old b/s were baptized on the sea side.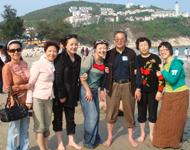 After baptized, you are a new person! Now you are not live for yourselves, but life for your Lord who had died for you. Old things are gone, and everything is new now. Hope we can all live as salt and light to glorify God's name. Following Jesus is a decision you made for life, baptizing is only the begining! Jesus said, come, and you will get a life, and more abundant life!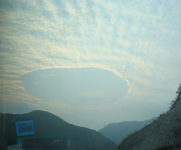 We were going back then, and should be back as a truly new person: no more complaint, no more accusing, keep forgiving, keep loving others. And remember the fruit of the Spirit: love, joy, peace, patience, kindness, goodness, faithfulness, gentleness and self-control. We know it is hard to do these by ourselves, but with the help from the mighty power of Jesus, we can do all things! Also remember the mission in our life: to be the witness of ourt God, to spread the Gospel to the end of the world! When we left, we saw the heaven was opening: we knew that God was happy for what we did! May all the glory and praise belong to our loving God!