When we took the train from Guanzhou and arrived in Shenzhen, it was already five o'clock in the evening. We then immediately took the bus to the Langko Church. After two hours of bus ride, we met with Mr. and Mrs. Zhao and then we went together to the church by the tri-cycle.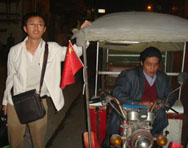 I took the tri-cycle ten years ago in Wuhan. They called it "Ma Mu" – since it vibrated a lot while in motion, people on it became numb not long after. It was then too dangerous to be used again as a method of transportation. When we were riding on the "Ma Mu" on the country road, the tri-cycle was really shaking and I was really afraid that Mr. and Mrs. Zhao would be thrown out of the "Ma Mu". The couple is really supportive of this ministry. They are faithful in serving others in need, usually without saying a whole lot. The weekends are usually the busiest time for their training center, but they always leave their business aside and instead, serve the God. I am really grateful whenever I see their faces, which reflect the fact that the more they serve, the joyful they become. Thank God for putting such good co-workers beside me. I often feel indebted to them when they need to travel with me for the ministry. May God remember them. Today they have taken more than two hours to arrive here.
As we were on the country road, we were gradually riding to remote areas. As it was dark, nobody really knew where we were going or the location of the church. As the "Ma Mu" continued to march ahead, it suddenly stopped as we saw a building (like an old church) beyond the building by the road. The building's top was really high to the sky. I could not believe that there is a church in such a remote area as they indicated the sign: "Langko Church". It was dark so I could not see it clearly. However, my heart was pumping up as I was contented to see God's temple. May it become the "light" of the community. It was regrettable that I could not take a photo because of the darkness.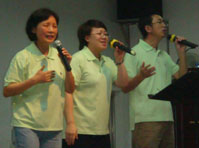 When we arrived, there were already brothers and sisters. It was youth group gathering tonight. As people gradually came in, there were more than two hundred people at the event.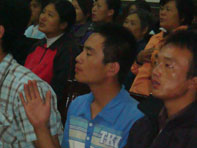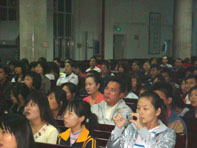 When I saw those eyes longing for Jesus, I could not help but think that those who seek God may be blessed. They might not be as wealthy materially as those who live in the Shenzhen city, but "The Lord is my shepherd, I shall not be in want!"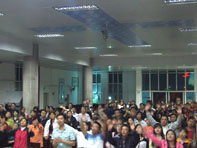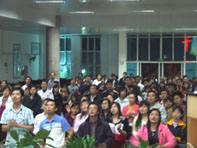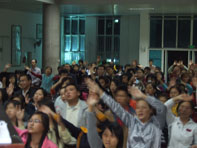 As I watched over the cross on the wall and the same red-light cross outside the window, I know those who follow Jesus seeks a different type of blessings than the other worldly people.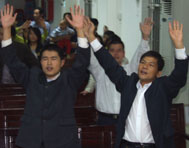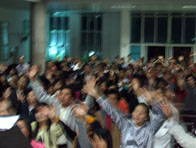 The road ahead is about offering our lives and living for God. In addition, we will devote our lives to glorify, praise and worship God. Everyone raised their showing their will to follow the Lord since we can not repay for God's grace. As we want to walk the heavenly road, we have eternal hope.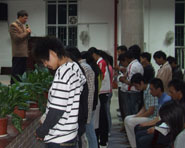 After the concert, there were 21 friends who came forward and accepted Jesus as their saviour for life. The pastor prayed to help them in their determination to follow Jesus for the rest of their lives. After taking picture with them, we were prepared to go back to Shenzhen. At the same time the Pastor bought a few boxes of dinner for us to eat. He then drove us to the station. We gave out 300 CDs and did not ask for donation. As there were so many souls being saved tonight, this was our greatest joy. May Glory to God.