It was dark after coming back from brother Chen. We rested a bit, and then we prepared the"Grass Music Concert"for tonight.
We rode a car to Xinju Church at night. Although we were still in City of Shanya, but it felt like we came to country side, because it was very dark everywhere,It is looked like the power was off. While walking on the bumpy road I was thinking that how can we have Music Concert if the power is off. We arrived the church finally, and I saw that: the church was spacious, and it's open to the street! This is the first church I saw that was very open. The people at the neighborhood and on the streets would be able to hear the music!
When we entered the church, I saw the brothers and sisters had prepared a full table of food for us. I felt very warm in my heart. Although it was not a fancy meal but it was their love! After supper, we started preparing the Music Concert. The church was not well equipped, They even do not have a projector, so we sent someone to get one from Grace Church immediately. Sister Chen,who was the leader of the Church, said they were poor so please pray for them. I looked around the people, some were from the Grace Church. Children and seniors were the majority here. I didn't know how God will work through me to comfort people here.
When the music of praising started, we all focused on worshiping. I saw some people were peeking through the upstairs window of the next building, and many people came watching at the door, and some even climb over the wall to listen to us. So I sang more diligently: tonight, the melody of praising will spread out from the church!
Then I shared my testimony. God's action is amazing and touching! I soloed 《You are in my life》, then sang 《Please hold my hands》with teacher Zhao. teacher Zhao had attended many Grass Music Concert, but when she sang this song, she still cried. I hugged her. Thank God, she walked on the same road with me, and she was willing to go everywhere with me. She only became Christian for 1 year! God gave her faith, and I believe God will bless her family also!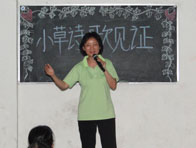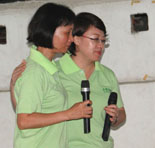 Every single song was touching brothers and sisters' heart; every heart was touched by God.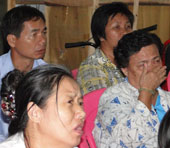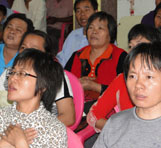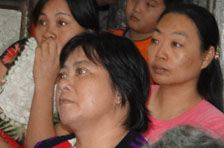 God's kindness is too much to repay! Lord of the lords, king of the kings, we will praise God whole of our life!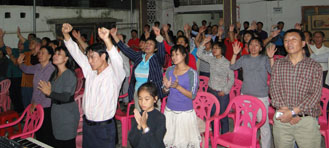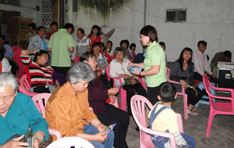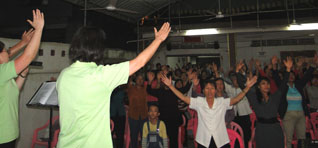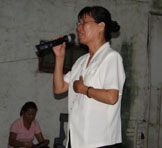 At the end, sister Chen walked on the stage with tears, and she couldn't say a word for a while. Our hearts were touched. God, we were so small, but you care for us so much! Then we gave everyone CD. Sister Chen represented the church devoted $500 dollars for supporting us. I did not want to accept her devotion, because with this $500 could buy the church a projector! But I didn't want to disappoint them either. Holding the devotion, our staff's hearts were heavy. We will work even harder!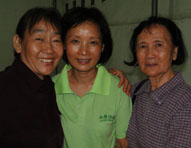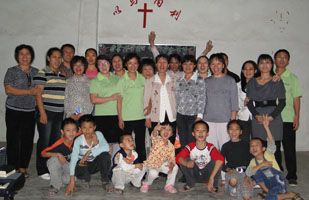 Wish God give mercy to this church, and God bless Shanya City!
Translated by sister chen